Well hello peoples,
Yes yes I know, after promising regular blogs it's been FOREVER, sadly stupid paid work keeps taking priority. The curse of the self employed person, your customers now own your life, because someone else owns your house! So I'm now stupidly behind with my blogs and my personal editing, I have so many interesting things to show you and really not enough time to post it all up here, so I shall be trying to catch up, but you might have to make do with blogs about events that were months ago. Sorry!
So, enough of my excuses, lets have a look at the piccies from Septembers
Dr Sketchy's Birmingham
, the theme this month being 'Screen Sirens'. For any of you unfamiliar with the concept of
Dr Sketchy's
it's somewhere between a burlesque night and a life drawing class, but with less naked fat people and more giggling!
The show opened with hostess
Liberty Pink
singing 'Diamonds are a Girls Best Friend', in her in-imitable style and a rather nice frock.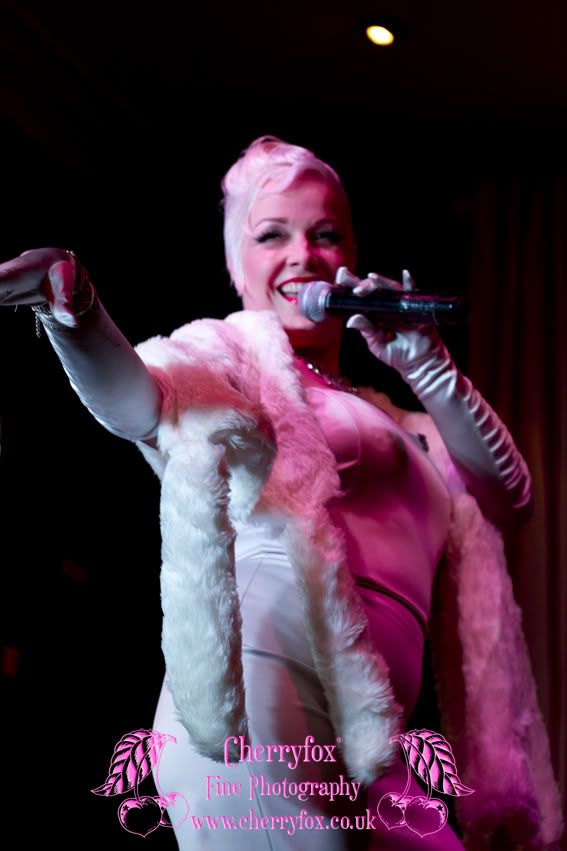 Next the diminutive but larger than life
Velma Von Bon Bon
with her signature act, a hilarious mix of lip syncing and 60's style choreography. Everyone knows I love an act with an unexpected theme.
Not to be outdone, next came
Sherry Trifle
with her 'Bates Motel' act, I love the way Sherry rocks out like no one is watching and her cheeky finale is pretty exciting!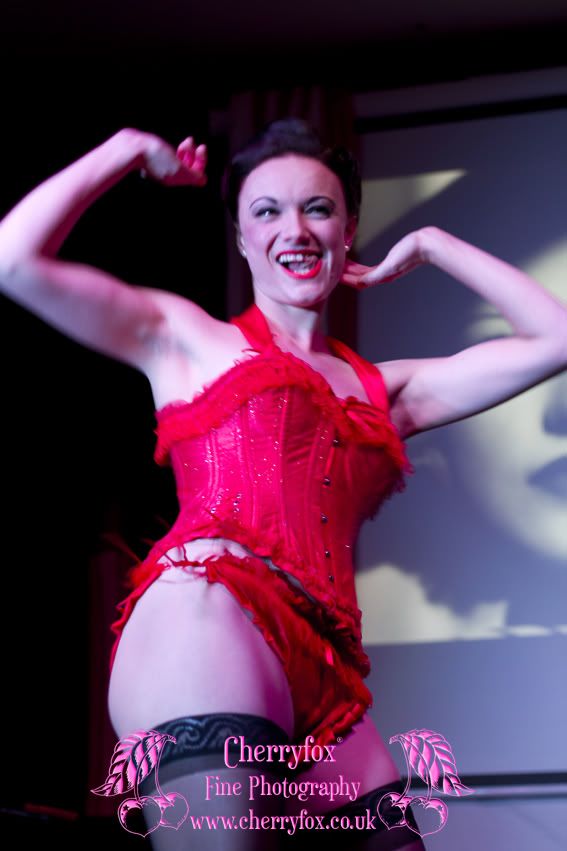 Another fetching frock from Liberty as she sang 'My Heart Belongs to Daddy' a song that personally I have always found rather darned creepy!
Headlining the event was my muse
Daiquiri Dusk
, with her 'Movie star Dreaming' act to 'Don't Stop Believing' by Journey, Daiquiri's routine is almost enough to wipe away the horrific memories of the that song being butchered by the Glee cast and again at every Karaoke night since! I made the black silk wrap over skirt she's wearing for this act, I'm so glad I persuaded her to let me line it in yellow, it looks great in the reveal.
Last but not least, Liberty wrapped up with a Jessica Rabbit rendition of 'Why Don't You Do Right?' fulfilling a long lived dream of hers. I don't have any great pictures of this one as she spent most of the act in the crowd, but I did get a shot of her modelling afterwards with our Maid for the afternoon Fleur du Mal who was dressed as Betty Boop.
For the full set of my images and more please go to the Flikr group
HERE
As a p.s. here, you will see from my new watermark that my Registered Trademark has now been approved. So now I get to sign my name Cherryfox® too cool!
All Images are (c) Cherryfox® Fine Photography and must not be published or reproduced in any medium without prior written permission from the photographer