Evening All
Well this week has been a pretty ordinary one thankfully, this weeks highlight being
Red Rocks
at the
Island Bar
Birmingham on Friday.
Red Rocks is one of my residencies, I perform a sing and fling set at every event, each with a different theme. This time it was Swing Classics, 'Whatever Lola Wants', 'Fever' and 'The Lady is a Tramp'. I love doing sing and fling, it's great to be able to combine singing with my burlesque skills and being able to talk to the audience. I really enjoyed performing, my swing set is in the 'easy' register of my voice so it allows me to concentrate on performing the tracks rather than just singing them well. I got really positive feedback from the crowd (and a booking) and generally I think it went pretty darned well.
Another joy of Red Rocks is that I actually get to watch the show, performances came from
Delilah Dufoe
(my resident at Silhouette Burlesque) with her 'Jean Genie' routine which cracks me up and 'Dude Looks like a Lady' with the finale seeing her tassel twirling upside down on the bar!
Dani California
with her 'Bird of Paridise' act which is just stunning (and to Alanis Morissette which gets brownie points with me) and her new 'Lust' routine put together for her Edinburgh Fringe run.
Glorian Gray
with a classic war time inspired routine and her 'Tiger Tiger' act which is inspired (a must for cat lovers). Tallulah Cherry was our new talent for the evening, she cleverly worked her nerves into the narrative of her routines, look forward to seeing her blossom. Our headline act was
Khandie Kisses
who was her usual energetic self, with her 'Rabbit Poison' and 'Gorrilla' acts, both with rather 'reaveling' finales that I wasn't entirely prepared for!
All the usual Birmingham Burlesque reprobates were in the crowd, the after show is always a blast! The night was made even better with the attendance of some of my 'real life' friends and the Evil Genius. I love when my 'normal' friends come to shows, you're always guaranteed genuine feedback as they don't live in the burlesque bubble. A great time and too many cocktails were had by all (aside from the designated drivers of course!), a closed section of motorway on our return trip lead to a rather amusing scenario in a service station shop, with myself, Glorian and a rather tipsy Dani Cali searching for Galaxy chocolate to placate our driver, in full stage make up and street clothes, the poor confused shop assistant! The car bearing the boys saw an equally amusing situation with a back seat drunk, gotta love cocktail Steve for aiding with the in car entertainment on the way home! Sadly this was the last Red Rocks of this year, but we'll be back next year, who knows what Fey Tish has planned for us! Thanks to Mark Lloyd for the photos below and to
Wonderland Wigs
for my fantastic red hair!
So a nice quiet week and next week I'm off on holiday to Wales again. Delightful!
CF
x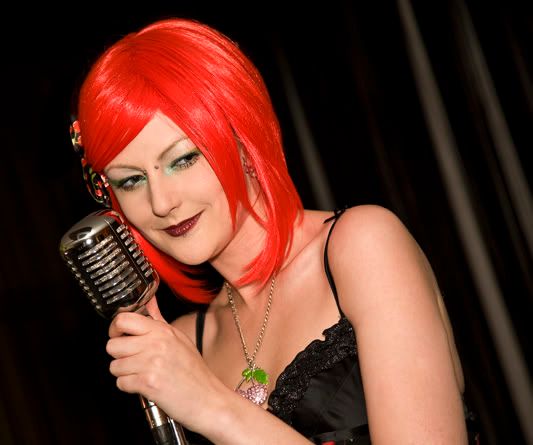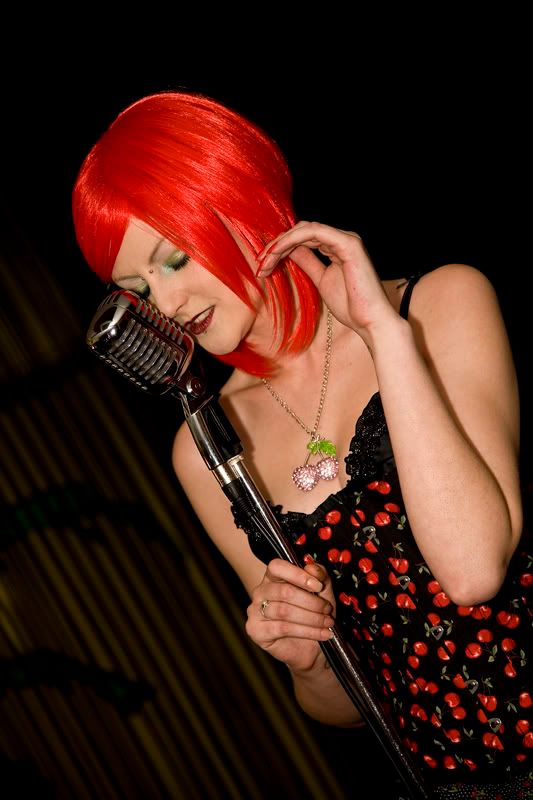 All Images are (c) Mark Lloyd and must not be published or reproduced in any medium without prior written permission from the photographer