Morning All,
Well after an epic amount of editing this weekend, I am now ready to reveal the second set of pics I made with
Emerald Ace
last week. After our
improv
shoot in the church yard we toddled back to
chez
Fox for some lunch and for the studio shoot that was actually the reason for our weekend of fun!
I recently acquired a huge pile of
celtic
/
gothic
/belly dance jewellery. My first thought when looking at the elaborate
dangly
necklaces was of
Bollywood
stars and then of the princesses in 80's fantasy films I grew up watching. So my instant exclamation upon receiving said box of
sparklys
was "I'm gonna put ALL this on Emerald's head!" Got to love Emerald for her ever willing attitude to have random things piled on her head, last time it was tiny glittering birds and butterflies!
As per usual, the initial ideas we had for the styling of this shoot evolved as we began getting ready. I had in mind a
Bollywood
feel for the images, using patterned colourful sari fabric as a backdrop, but the minute Emerald got dressed I saw that she was far more 'Gypsy matriarch' than '
Bollywood
star'. So first U turn there...
Second U turn, wig, we had planned to use Emerald's long green wavy wig that she wears in her octopus act, but stage wigs receive extra wear and tear from being transported and become bitty rather quickly. Unnoticeable on stage but the little frizzy aura that surrounds a well worn wig is an absolute nightmare to tidy up in
photoshop
, mainly because it's very time consuming. It's not technically difficult on a plain background but an absolute pain on a patterned one. So... rethink, I have a very similar style wig in red, that I wear when I am '
Boobie
Soho' my sing and fling character, so we decided to use this one instead. Turns out Emerald looks AMAZING with bright red hair!
With the makeup styling we wanted to go for an Egyptian/Indian inspired heavy Kohl line look, but with much more colour and as always, added sparkle. Then we piled on the jewellery, a necklace and anklet on her forehead, and a necklace and bracelet where intended. All with green stones to tie into the green makeup.
As the styling came together it became apparent that she had now gone through '
Bollywood
star' and 'Gypsy matriarch' and come out the other side as 'Elven Princess, Emerald of The Ace'. I set about a complete re-think of the lighting and backdrop. I selected a length of dark green/black two tone
taffetta
embroidered with gold and green leaves to use as a backdrop, to give the images a forest-y fantasy theme (although it then took me nearly an hour to iron all the folds out of it, where it had been crammed in my rather overfull bag of backdrops).
In a previous shoot,
(see 'The Orinoco Bitch' blog)
I had wanted to recreate moonlight but it wound up being inappropriate for that shoot, but now we were in a forest with a elven princess it seemed the perfect opportunity to resurrect this idea. I used one single
Lastolite
head with a snoot and wide honeycomb to the left, up high centered on Emerald's face. I pushed the lighting about half a stop over exposed to give high contrast and shining perfect pale skin. The light was angled so it just caught the gold embroidery on the backdrop, making the fabric almost invisible and turning the leaves into golden vines hanging in mid air. I would have liked to lift the light up slightly higher to widen the spot and catch the backdrop to the edges but in my small home studio this was impossible.
Soundtrack to this shoot was Laura
Marling
and Suzanne Vega, nothing like a bit of modern folk music to bring out your inner gypsy/elf queen, although I have discovered it makes you very uncool to admit you like folk music at all, modern or otherwise. Me, I'm a sucker for a fiddle and a
bodhran
.
Again this was a very swift shoot once we had done with the styling, which we always take our time over as we enjoy the process. First shot to last Emerald was in front of the camera just 23 minutes and every single shot we took was
usable
. As myself and Emerald have now done 5 shoots together I think we understand each other. I know her face and how it works with the light and she understands (or humours) my sometimes very odd direction, "stare at the moon like it's falling from the sky", "now look at it like it's asked you to do complicated sums in your head!".
Someone has already asked me if these images were actually lit this way or if they were
photoshopped
. All I did in editing was a little bit of airbrushing on the skin to even out the tone (harsh directional lighting will always accentuate any red tones or blemishes in the skin). I burnt into the makeup a touch to make it darker and more striking, something I always do, black never comes out
truly
black in pictures. In the previous shoot
(see 'Mina' blog)
I had lightened the center of Emerald's eyes a little, but I didn't do anything to them in this one, this is how they actually look when given
allot
of light.
I am so pleased with these images, she is totally how '
Titania
' looked in my head when reading 'A
midsummer
nights dream' when I was little. There's a touch of the young Liz Taylor circa 'Cleopatra' as well I think, it's that beautiful strong jaw line. All the elements really came together to make this, Emerald's great face, the backdrop, the styling, the lighting. Sometimes things just go well, without the struggle, sadly never when you're on the clock though!
So here they are, let me know what you think
CF
x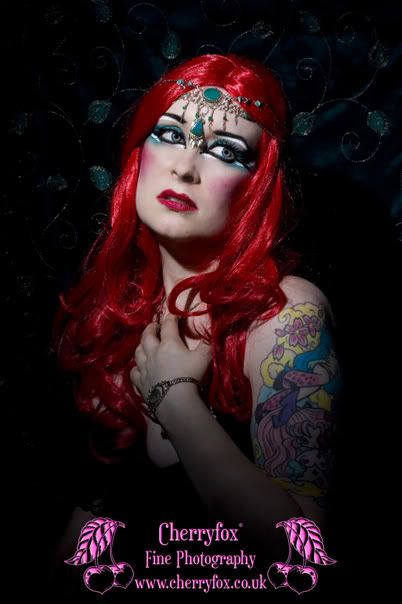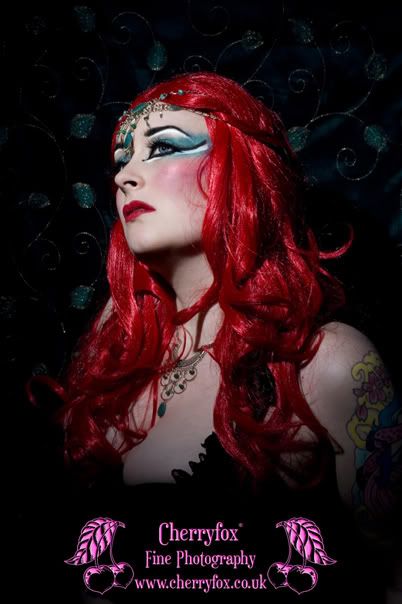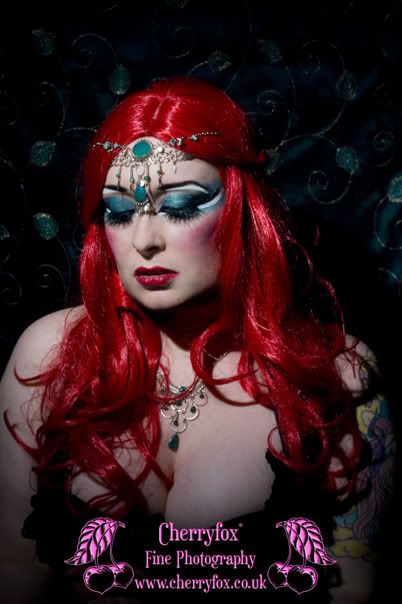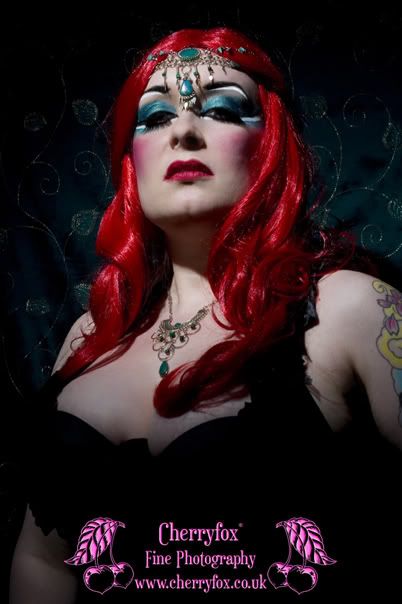 All Images are (c) Cherryfox® Fine Photography and must not be published or reproduced in any medium without prior written permission from the photographer