Hi hi,
Well I'm so rock and roll that I spent all of my Bank Holiday weekend editing my shots of
Emerald Ace
from last weekend. Emerald is my current Muse and will aways hold a special place in my heart as the first Burlesquer I photographed for my
'Strange & Beautiful' UK Burlesque books,
published last year. We have great fun working together, she's always open to taking on a bonkers character or piling on the drag queen make up, best of all she's not afraid of a bit of ugly beautiful.
After a delightful night of putting the world to rights with crisps, dip and wine, myself and Emerald awoke to fantastic weather, we had planned to do a studio shoot that day but with the combination of the sun and us both managing to get up rather earlier than expected we decided to do an impromptu outdoor shoot first while the light was with us.
With a bit of combined styling, Emeralds dress, my wig and accessories, we came up with a 1920's femme fatale theme. Trainers and sunglasses were donned and with the Evil Genius (also known as my boyfriend Rew) as back up, we toddled down the grotty backstreets of Stoke to the beautiful church yard at Stoke Minster. We must have looked like a ridiculous bunch!
Usually I plan most details of a shoot before hand and more often than not have an idea in my head of the kind of finished image I'm looking to create. I also don't really do outdoor shoots, I'm a bit of a control freak and to be honest natural light scares me, there's just so much to go wrong! But as this shoot was completely unplanned and had no pressures associated with it, we had far more freedom to play around.
We essentially just danced around the church yard, experimenting with the natural light and working with the location props (avoiding any cliched gravestone related shots). Some of the shots taken in direct sunlight came out far too high contrast but the images taken partly in the shade have a gorgeous diffused silent movie quality. When we started working with the mosaic bench, the dress draped so beautifully over the edge that it reminded me of pre-Raphaelite paintings, so we tried to contrast the 20's vamp look with pre-Raphaelite poses and soft facial expressions.
All in all the shoot took about an hour and a half styling to wrap. Really rather liberating and the shots are pretty darned good!
When reviewing the images before editing, I was reminded of old black and white vampire films, Mina in love with Dracula but not yet turned, and inspired by this I paled out Emeralds skin slightly, and dodged the colour of her eyes slightly to intensify the animal gaze. I actually didn't have to do much, Emerald has the most amazing dark green rings around her pale blue green eyes.
So here are the results, do let me know what you think... And tomorrow I shall hopefully upload another blog of the studio shoot we did after this one.
CF
x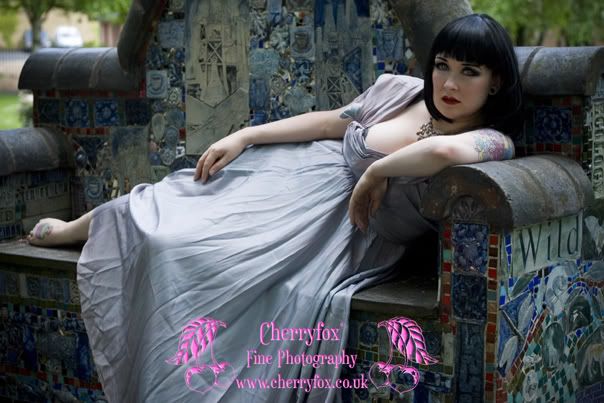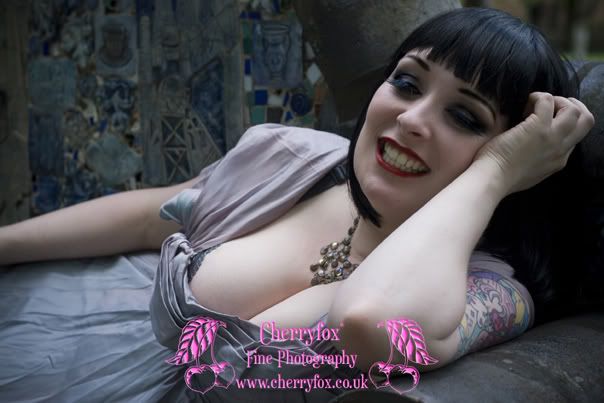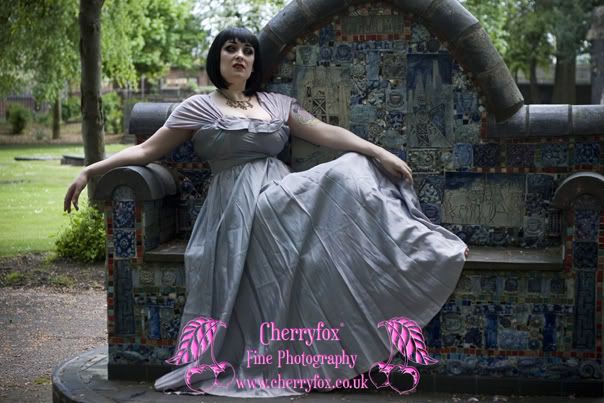 All Images are (c) Cherryfox® Fine Photography and must not be published or reproduced in any medium without prior written permission from the photographer