APOLOGIES - I have been asked to edit this post to remove any mention of the models name, she's having problems at her day job and has asked her name be removed. However I decided to leave the technical content and images within this blog so you guys can all still see my process.
The Model wanted to combine her 'Orinoco Bitch' Burlesque character (a baroque pirate queen) with the simply exquisite Victorian mourning gown she had made for her by
Lestat Couture
(the workmanship in which had the dressmaker part of me tipping her hat!) Now this was great idea but had it's own logistical problems. I had in mind our pirate queen, stood in the moonlight, on the bow of her flagship, after a productive days pillaging, lady of all she surveyed. Soundtrack to this shoot was Kate Bush and All About Eve.
First issue, backdrop, the studio has a wide range of full length coloramas, but not a midnight blue one. I didn't want to use a pale blue as I wanted the images mean and moody, not something pale blue really says to me. I also wanted the images to have a night time feel, black was out of the question because of the black dress (black dress on black backdrop generally equals floating head, no matter how perfectly exposed the dress is, because your eyes will always travel to the face instantly). We opted in the end for a purple backdrop, which was actually a colour I'd never worked with before. Working with a large colorama did however, remind me why I use fabric backdrops in my own (much smaller) studio, the frustration found in unexplained creases in paper drops is unbelievable for a perfectionist like me! ('I'll photoshop it out after' is something you'll never hear from me)
Second issue, lighting, I originally had in mind something very directional but diffused (to mimic moonlight) however again this would have proved a problem with the dress. I couldn't possibly ignore the stunning detailing on the dress, however black silk taffeta requires allot of light to expose correctly, so I had to rethink my lighting. I opted for two large front soft boxes, the one to the right placed low for the dress and the one to the left high for the face. To replace my moonlight I put a spot high and close on the (other wise unlit) backdrop to represent the moon. Pretty darned pleased with it I was too!
Final issue, poses. Now I'm pretty sure queen Victoria never enquired 'does ones bottom look large in this' however this is a pressing issue for saucy pirate queens. The bulk of the gown in the back and chest didn't suit 'standard' poses but really lent itself to some 'high fashion' contortion. High fashion editorial often uses asymmetric poses, hunched shoulders, positions that give the body an odd broken quality and distort the usual silhouette of the body. I was also keen to juxtapose the 'old fashion' of the gown and styling with a modern 'high fashion' couture feel. Think, Westwood or Galliano, although had I actually been working for either of those people we'd have had a real pirate ship and a real moon! One day... one day...
So all in all I was pretty darned pleased with how the images came out, although they weren't exactly what I had in my head when I started. I think a key thing to being a good photographer, or creative in general, is learning to roll with the punches and giving yourself the freedom to change your mind about the direction you want to take a project. Still, a real pirate ship next time I think!
So here are my images of 'The Orinoco Bitch', do let me know what you think of them, and what you think of my first proper blog EVER!
bye
CF
x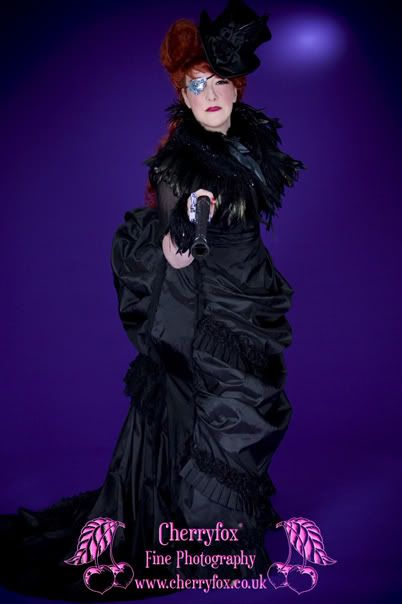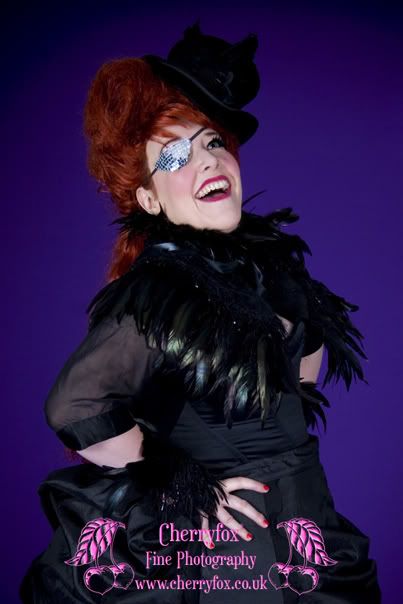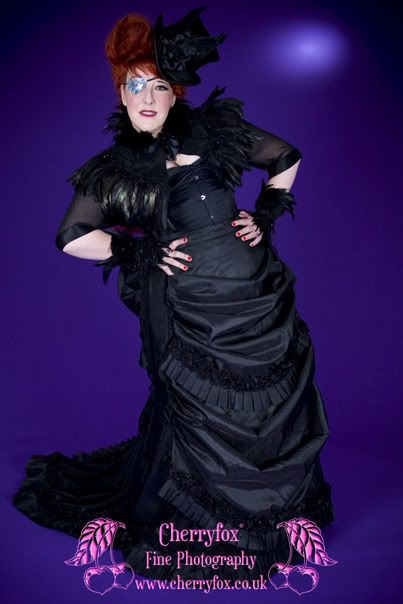 All Images are (c) Cherryfox® Fine Photography and must not be published or reproduced in any medium without prior written permission from the photographer