Cherryfox® has been a professional burlesque performer for more than 5 years, a selection of her acts are described below...



The Jazz Singer
– to 'Word Up' performed by Willis.
Cherryfox®'s signature routine. A sensual and provocative striptease routine, Cherryfox® slinks around the stage to this fantastic cover version of the Cameo track 'Word Up'. Accompanied by Her vintage microphone 'Ginger', Cherryfox® performs like no other jazz singer!
View video of this act
HERE
Image (c) Graham Warsap Photography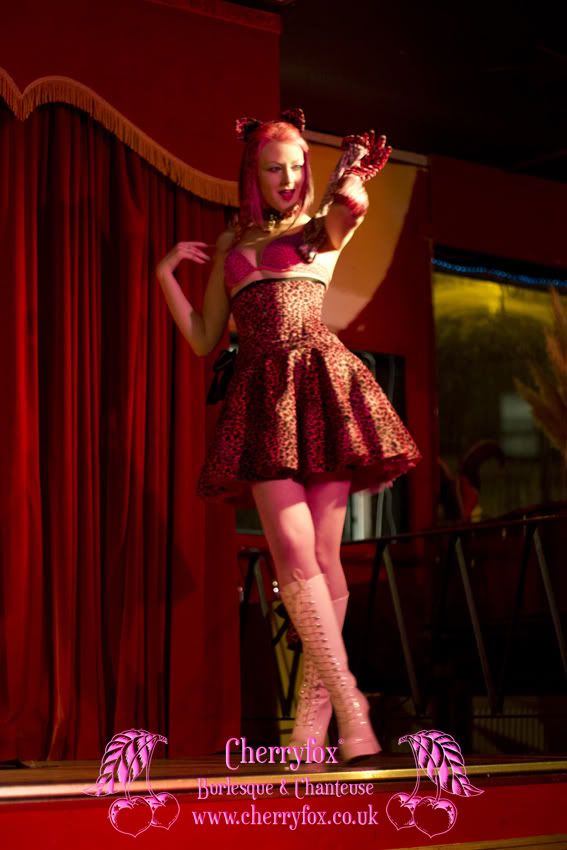 A Leopard Can't Change Her Spots?
– to 'The Lovecats' performed by Tricky.
Cherryfox®'s second signature routine. Who says a leopard can't change its spots? In this routine Cherryfox® proves that a leopard can definitely remove Her spots even if She can't change em! Be sure to get a glimpse of this rare and elusive animal: the pink spotted Cherryfox®! A fluid, feline routine, which is exactly what Cherryfox® does best.
View video of this act
HERE






Missed Me? – to 'Missed Me' by the Dresden Dolls.
Cherryfox®, a scorned women, or a broken discarded china doll, is out for revenge in this warped tribute to the classic cane dances of the golden era of Hollywood. Mixed with a little of Her own creepy gothic magic, Cherryfox® struts and kicks Her way through this vivid monochromatic routine. It might be in black and white but it's definitely not dull!
View video of this act
HERE
Image (c) Iolair Images
Classic Elegant Acts
First Flight - to 'Last Beat of My Heart' by Siouxie and the Banshees.
In this elegant and haunting dance of the seven veils, Cherryfox® is a butterfly shedding Her silks and beating Her wings for the first time. Using balletic inspired movements, She compares the shedding of the silks to the loss of a lover. Melancholic and entrancing, this routine shows a different side of Cherryfox®. Showcasing the beautiful leather creations of Antrobus and Grimm.
View video of this act
HERE
Image (c) Candee Piccies


In this 1920's inspired routine, Cherryfox® plays the classic, elegant, silent movie heroine. Upon finding an unusual flower She finds herself overcome with strange urges, and a feeling She's being watched. Of course, the routine ends in classic silent movie style, with our heroine seriously overacting her death scene!
View video of this act
HERE
Image (c) Tip Top Photography
Comedy and Cheesecake Acts
There are no teddy bears at this picnic, Cherryfox® is waiting for Her man and fears She's been stood up. Perhaps, if you're lucky, rather than eat alone, She'll invite you to Her picnic. With sweet comedic melancholy this routine shows the softer (and stroppier!) side of Cherryfox®.
A comedic Alice In Wonderland inspired routine. Cherryfox®, the March Hare, is late for the Mad Hatters tea party and getting dressed proves rather problematic when the other inhabitants of Wonderland have left all sorts of things lying around to hinder Her! An amusing twist on the classic burlesque "reverse strip".

Image (c) Candee Piccies



Seasonal Acts
A routine for Halloween or Christmas, strange but true! Cherryfox® transforms Herself into The Pumpkin King, Jack Skellington, and we watch as She discovers Christmas with wonder, and reveals Her inner Santa! A quirky and fun routine guaranteed to go down well with a more alternative audience.
View video of this act
HERE
A classic cheesecake routine. Cupid's a mean boss. After a long day working hard, our very own trainee Cupid has decided it's about time She got a bit of action Herself. Trouble is, Cupid also has a mean sense of humour and Her magic arrows only work for others. She decides to resort to more old fashioned methods of catching a mate.
Image (c) Hawk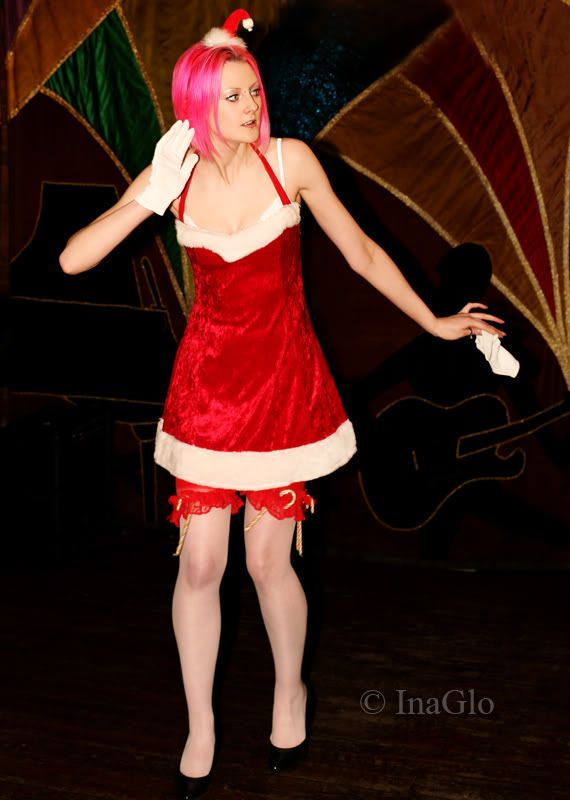 Santa's Little Helper – to Dat You Santy Claus and Santa's Got a Hotrod by Brian Setzer.
A supercute cheesecake routine, with lots of audience involvement. Cherryfox® the elf is bored of Santa getting all the fun. She decides to steals some presents from the workshop and brings Christmas to the audience! Perfect for any Christmas event.

Image (c) InaGlo Photography










The Best Present Ever! –
to 'Happy Birthday' by Altered Images.
Cherryfox® is on Her way to a birthday party and realises, to Her horror, that She's forgotten to bring a present. What should She do? What else, but wrap Herself in wrapping paper and invite the guests to remove it inch by inch! A slightly surreal and ditzy routine, with lots of audience participation. (Can also be performed with a Christmas theme).